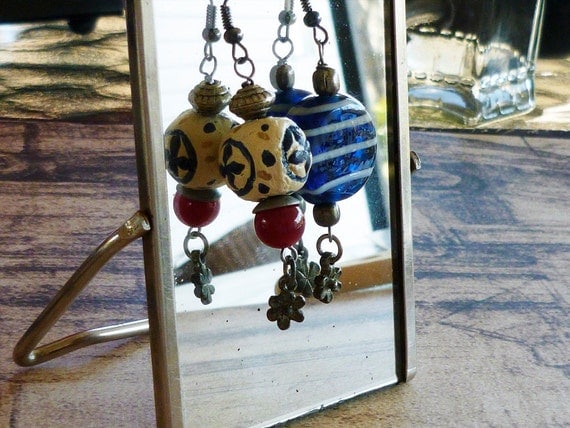 Mismatched Dangle Earrings
To see more details and to purchase, click the image above.
Features
:
Whimsical mismatched earrings in Hippie ~ Boho ~ Gypsy style;
One features a blue and white striped glass bead, the other features a painted paper mache bead and a smaller red glass bead;
Both earrings have a vintage metal flower dangling at the bottom.
These artsy earrings measure 2 1/2" from the top of the ear wire.
OOAK, so if you like them, grab them! If someone else already got them, ask me if I can make something similar for you. I don't have any more of the vintage flowers, but I could use
bells
instead, or another bead. (If you like the idea of bells but not the tinkling sound, I do have some duds I could use.)
How to Purchase
:
Click the image above to see if item is still available or to place a custom request.
Visit GypsyInMyBlood.Etsy.com to see all my jewelry!
*~.~*~.~*~.~*~.~*~.~*~.~*~.~*~.~*~.~*~.~*~.~*~.~*~.~*~.~*~.~*~.~*~.~*
All my jewelry is for adults and children over age 14.
*~.~*~.~*~.~*~.~*~.~*~.~*~.~*~.~*~.~*~.~*~.~*~.~*~.~*~.~*~.~*~.~*~.~*