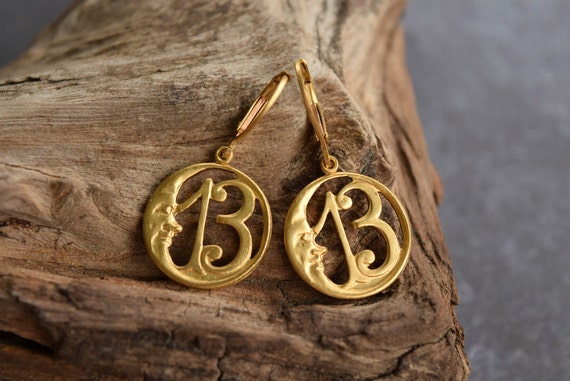 Lucky 13 earrings in raw solid brass.
To see more details and to purchase, click the image above.
Features
:
Solid Brass
Raw, unfinished, so will darken with age
Can polish if you want to keep it shiny and untarnished
These charming number 13 crescent moon medallions are the perfect gift for someone with a birthday or anniversary on the 13th of the month, or whose lucky number is thirteen. Medallions and leverback ear wires are solid raw brass, uncoated. The medallions are a wee bit smaller than a penny, which is 3/4".
How to Purchase
:
Click the image above to see if item is still available or to place a custom request.
Visit GypsyInMyBlood.Etsy.com to see all my jewelry!
*~.~*~.~*~.~*~.~*~.~*~.~*~.~*~.~*~.~*~.~*~.~*~.~*~.~*~.~*~.~*~.~*~.~*
All my jewelry is for adults and children over age 14.
*~.~*~.~*~.~*~.~*~.~*~.~*~.~*~.~*~.~*~.~*~.~*~.~*~.~*~.~*~.~*~.~*~.~*