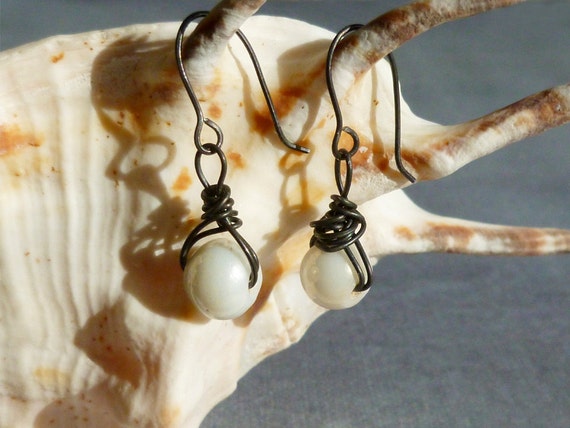 Black & White: Urban chic wire-wrapped earrings.
To see more details and to purchase, click the image above.
Features
:
annealed dark steel wire;
white glass beads from India;
small and very lightweight.
About Dark Annealed Steel Wire
:
Dark annealed steel wire has a natural black carbon coating that comes to the surface during the annealing process.
I have cleaned off loose carbon and sealed the wire with a coat of microcrystalline wax to give it a lovely sheen and help prevent rust.
Keep away from moisture and apply an occasional light coat of car wax, such as Turtle Wax, if needed.
How to Purchase
:
Click the image above to see if this item is still available for purchase or to place a custom request.
See more
:
Jewelry by GypsyInMyBlood
at Etsy
*~.~*~.~*~.~*~.~*~.~*~.~*~.~*~.~*~.~*~.~*~.~*~.~*~.~*~.~*~.~*~.~*~.~*
All my jewelry is for adults and children over age 14.
*~.~*~.~*~.~*~.~*~.~*~.~*~.~*~.~*~.~*~.~*~.~*~.~*~.~*~.~*~.~*~.~*~.~*