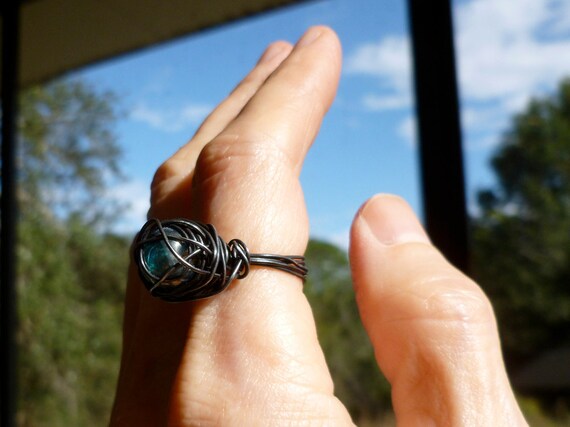 Urban rustic edgy wire wrapped ring.
To see more details and to purchase, click the image above.
Features
:
Dark annealed steel wire;
Blue glass bead;
Microcrystalline wax.
This ring is size 6.5, and I can make a similar ring in your size. Other bead colors are also available. Just click the image above and request a custom order.
What's In A Name?
The glass bead is a beautiful blue that reminds me of the sea, hence the name "The Dark Mermaid". (There is no actual mermaid on this ring.)
How to Purchase
:
Click the image above to see if this item is still available for purchase or to place a custom request.
Visit GypsyInMyBlood.Etsy.com to see all my jewelry!
*~.~*~.~*~.~*~.~*~.~*~.~*~.~*~.~*~.~*~.~*~.~*~.~*~.~*~.~*~.~*~.~*~.~*
All my jewelry is for adults and children over age 14.
*~.~*~.~*~.~*~.~*~.~*~.~*~.~*~.~*~.~*~.~*~.~*~.~*~.~*~.~*~.~*~.~*~.~*