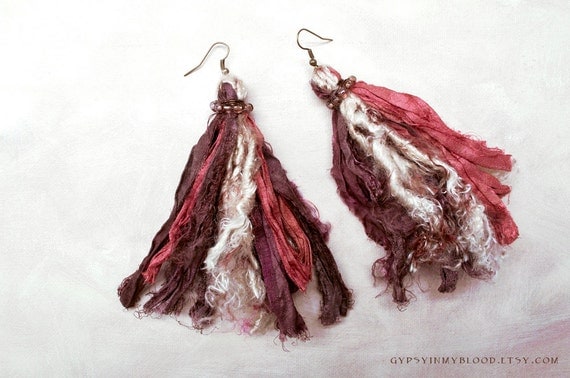 These earrings bring to mind a bedouin shepherd tending to his sheep.
To see more details and to purchase, click the image above.
Features
:
Earthy deep brown and reddish brown sari silk ribbons;
lighter brown and tan fluffy silk yarn;
a glass bead top wrap.
How your purchase helps others
:
The sari silk comes from India, where cottage industry workers use leftovers from manufacturing to earn a decent living.
See all my
sari silk earrings
| See
all jewelry
by GypsyInMyBlood
*~.~*~.~*~.~*~.~*~.~*~.~*~.~*~.~*~.~*~.~*~.~*~.~*~.~*~.~*~.~*~.~*~.~*
All my jewelry is for adults and children over age 14.
*~.~*~.~*~.~*~.~*~.~*~.~*~.~*~.~*~.~*~.~*~.~*~.~*~.~*~.~*~.~*~.~*~.~*